Descriptions of exhibits in museumsautomatically made available to visitors in the correct language
The ideal tool for all curators.
32 million international tourists want to understand
Sights and exhibits in museums become even better and more interesting when the information can be read in the visitors' native language.
Thanks to the QR translator, the effort for the museums and tourism authorities is extremely low, but the effect is phenomenal for the visitors, who can now read the information in their own language.
32 million tourists in 2021
The number of visitors in Germany has fallen to 32 million from 89 million due to the pandemic. But these tourists are also happy if they can read information in their own language.
In every place there are sights from all over the world. With the QR translator, the information is now made available to visitors quickly and conveniently.
In 2020, more than 7220 museums were counted in Germany alone, as well as 524 exhibition halls.
From now on, the exhibits can be perfectly presented in many languages. The effort minimal.
Also ideal for specialist translators
Even if artificial intelligence translates impressively well, the expertise of specialist translators is still important.
These control the artificial intelligence and change the often small nuances in the expressions of important descriptions.
With the intelligent QR code of the QR translator, the results of the specialist translators can now be optimally presented to the visitors. Immediately read the content on the smartphone in the right language, just perfect!
Create multilingual QR codes
And this is how it works:
Enter the original description (heading and long text) in your QR-Translator account. Possibly add a link to the website or shop.
Upload image and start translation process. After a few minutes, all 27 languages are available via the artificial intelligence.
Have the translation of the artificial intelligence checked and adjusted if necessary by the specialist translator. Subsequent changes or corrections are also possible at any time. Especially with extensive descriptions, specialist
translators are very important to enable a perfect visitor experience.
Now save the new QR code and attach it to the exhibit with a note or symbol for visitors. From now on, visitors can read the museum pieces in their own language. Thanks to the intelligent QR code, the description is displayed in
the correct national language immediately after scanning the QR code. English is set as the backup language if the language on the smartphone could not be recognized or is not included in the 27 languages.
The permanent link is now available forever. Even if the content of the description should change, the QR code can remain on the exhibit. Simply change or expand the content in the account, or run the translation again.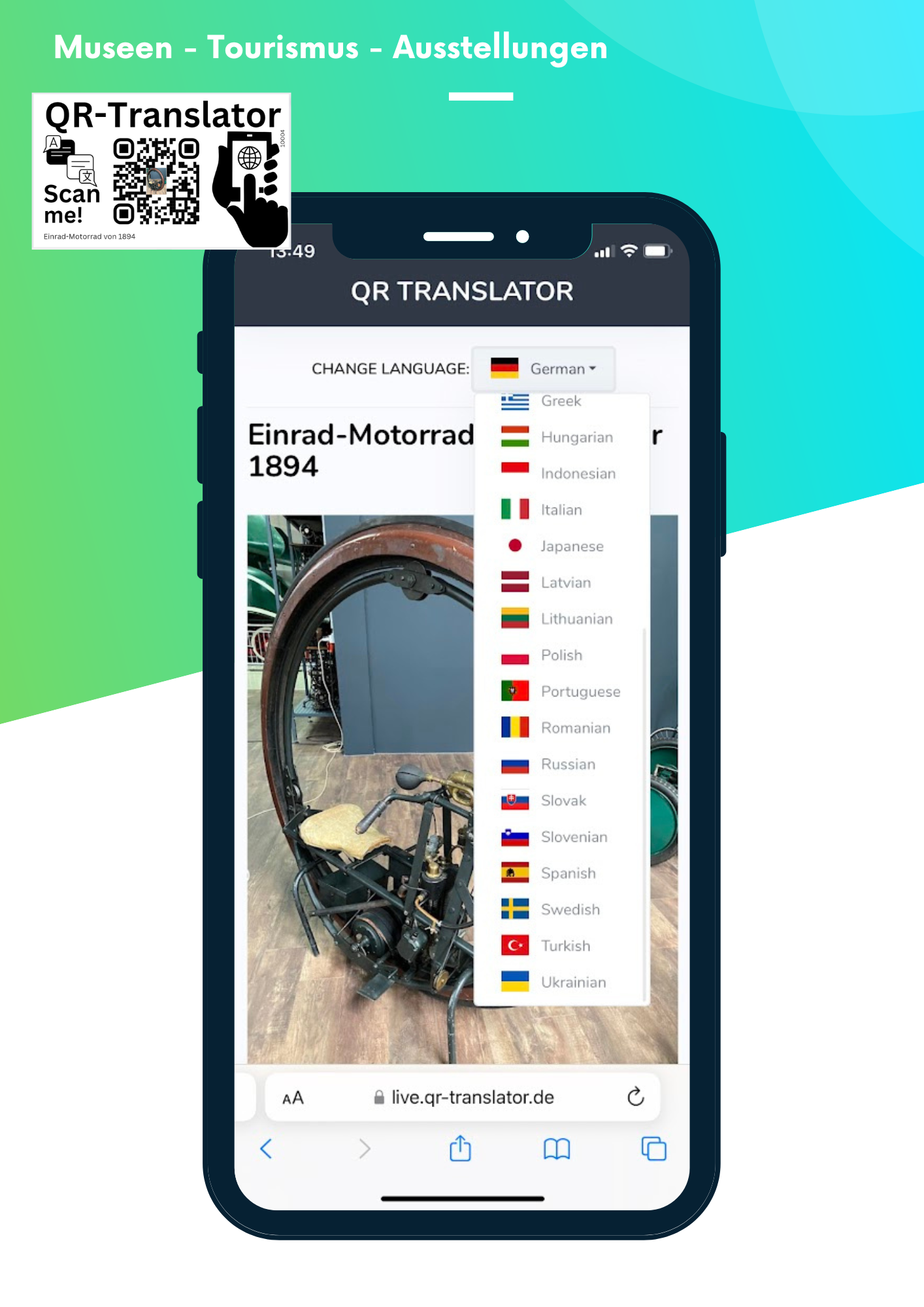 Contact us
+49-8124-4441350
info@alpha11.de